April has been a quiet month for me. I only had one race which came at the end of the month. This was the Quarteira ETU European Junior Cup triathlon in Portugal. April also saw me attend short training camp down in Loughborough with the ENG (England Next Generation) squad. Overall training had been going well at the start of this month and things were looking positive after my strong performance at the British Triathlon Assessment weekend, despite missing a few weeks of running training due to injury just before the event. However midway through April, I unfortunately went over on my ankle AGAIN and didn't think that I would be able to run for the race in Quarteira. Fortunately this wasn't the case and I was back running again within a week as it wasn't as severe as last time.
England Next Generation Training Camp - Loughborough
During the camp at Loughborough, the main focus was on swimming and cycling so I didn't miss much front not being able to run. A lot of the sessions focused on key skills needed during Junior triathlons such as open water swimming skills – Going around buoys, swimming in large groups and pontoon starts.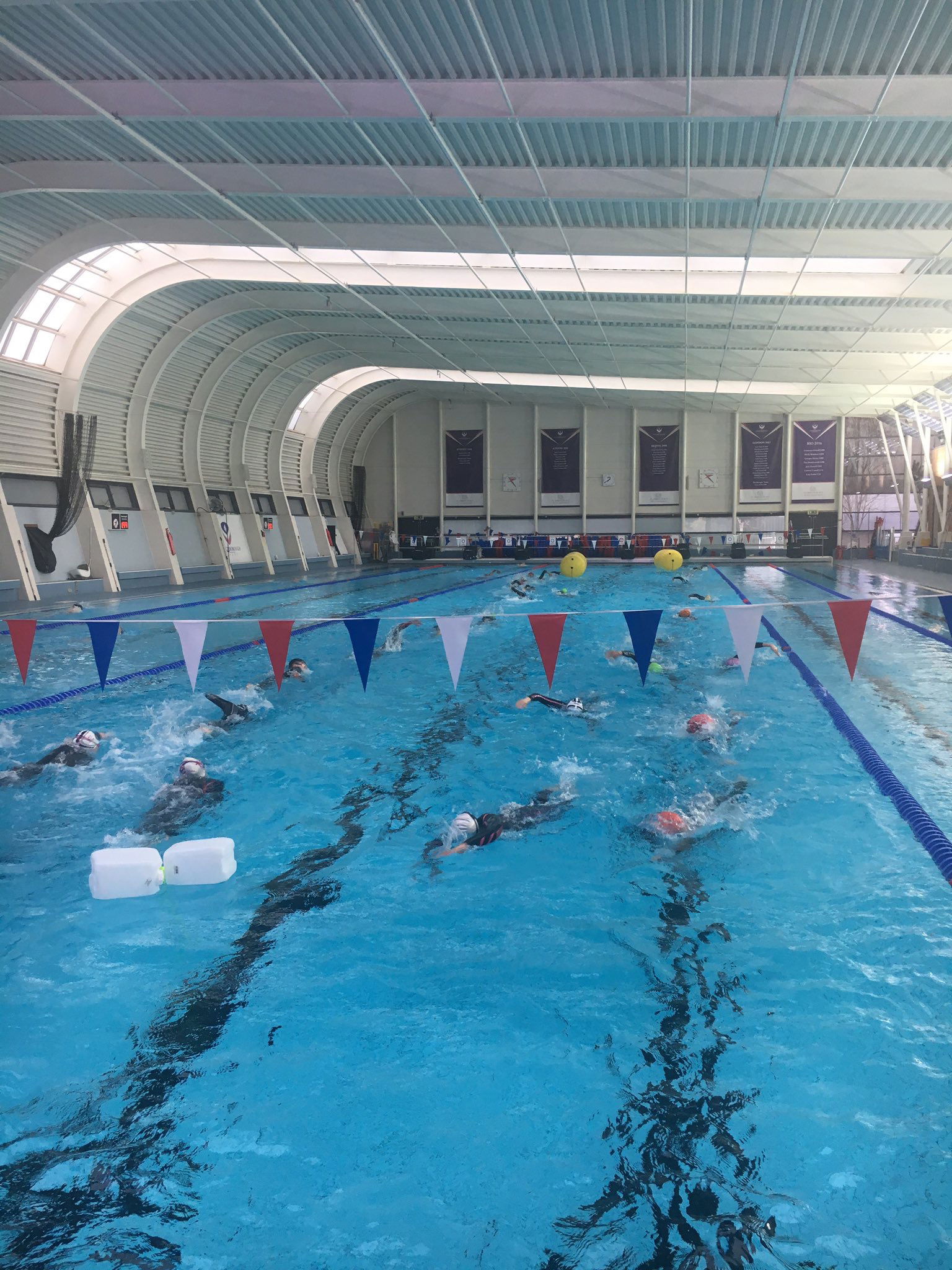 This was to give us a practice using open water skills before racing in open water. On the bike we worked on lots of cornering and dead turns as these are becoming more and more popular in races lately. The camp was only 3 days long however it was good to catch up with my competitors and the support staff such as the Physio, Psychologist and the Nutritionist.
European ETU Junior Cup - Quarteira, Portugal
Quarteira is renowned for always having a very strong Junior European field, based on this I did a slight taper so that I could perform better and see how I compare with the best junior triathletes in Europe. For those who don't know what a taper is, it is just easing down the training leading up to an event in order to get rid of some fatigue from training, this will allow you to feel fresh on race day and perform much better. I didn't do a full long taper as I have the European Junior Championship qualifying race in May and didn't want to lose too much fitness. On a very early Friday morning I met up with athletes and coaches of the England next generation squad and we flew out to Portugal.The race would be held on the Sunday. Shortly after arriving at the apartments we were staying in, we built our bikes and made our way over to the course for the bike course familiarisation.It was great to get some sun on my face and the average temperature over the weekend was 23'C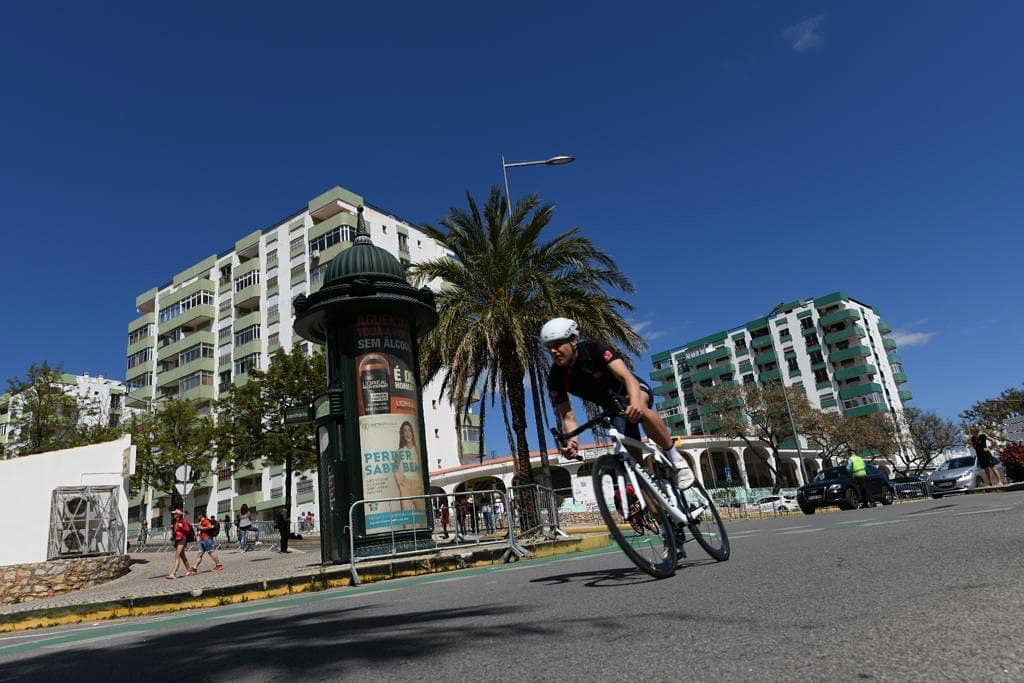 Shortly afterwards we then had a swim course familiarisation where we could swim the course that we would be racing. This was a perfect opportunity to try my brand-new wetsuit the Aquasphere racer 2.0. I was really impressed with how little restriction it had around the shoulder area allowing me to hold a good technique without fatigue. The new design also meant that was super-fast to get off in transition without the need of any oil or lubricant. Despite me being a brand ambassador for AquaSphere and I have a tried a number of different suits this is the best I have worn to date. Highly recommended.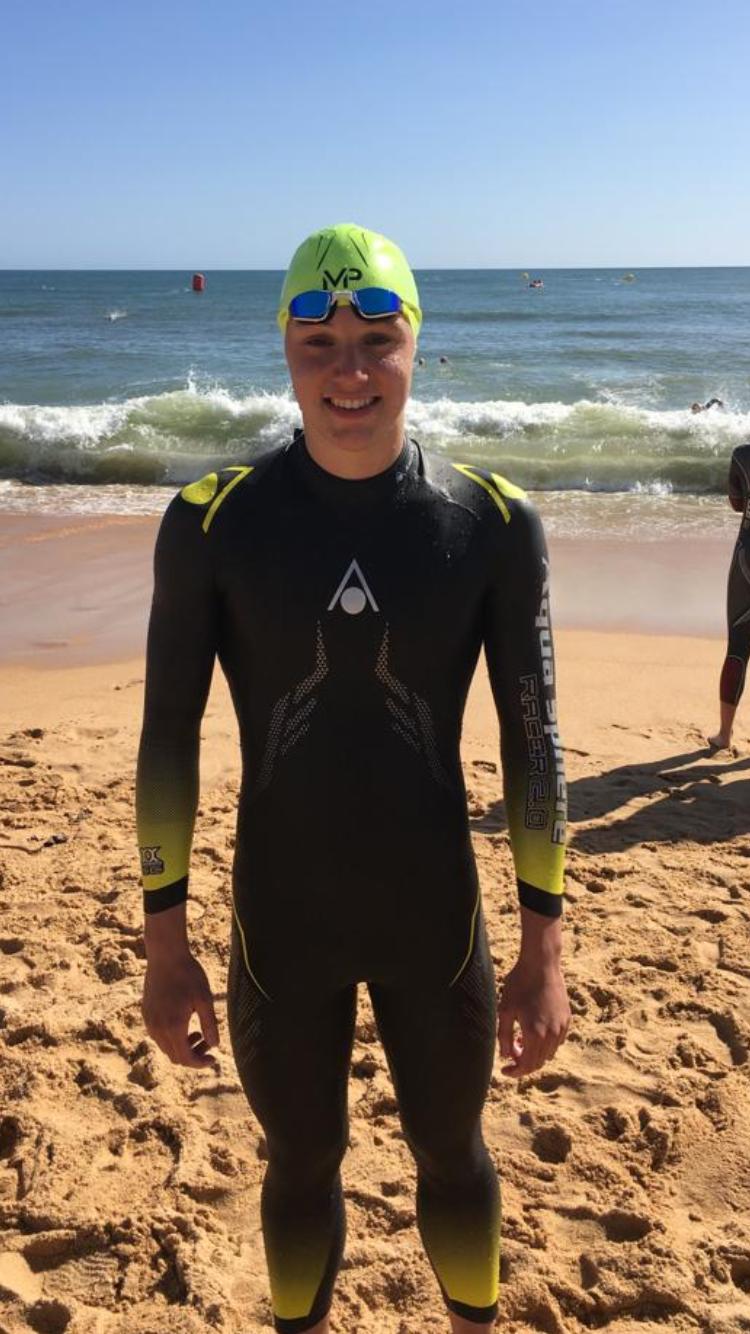 On Saturday we watched the Elite mens race, which was held on the same course that we would race on, this helped with the tactics I would use on race day. That evening we had race briefing where we received our race numbers and all the information we needed to know about the race. On race day, I was slightly more nervous than usual as this would be my first triathlon that has a sea swim. We lined up and had our names called out as we chose our position where we would start on the beach. As we started, I nearly fell over due to an uneven layer of sand but luckily I managed to stay on my feet. I then managed to have a good dive into the water meaning I was back in contention. It was a very rough swim and I received my fair share of arms to the face. I was quite far back as we reached the first bouy which was unusual for me as I like to take it out from the front straight away. After we cleared the buoy I managed to find some clear water on the inside and moved my way up towards the front. I ended up coming out of the water in second and had a very fast T1 which meant I came out of transition in 1st.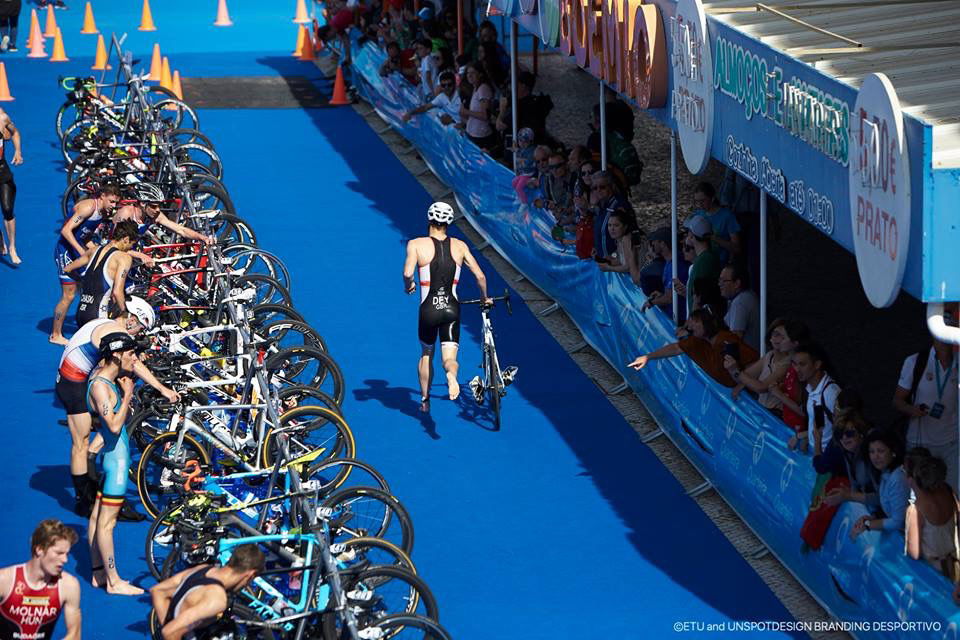 A small group of 4 formed at the front on the bike but we just didn't have the strength in numbers in order to stay away from the chasing pack we were caught at around 12 kilometres on the bike.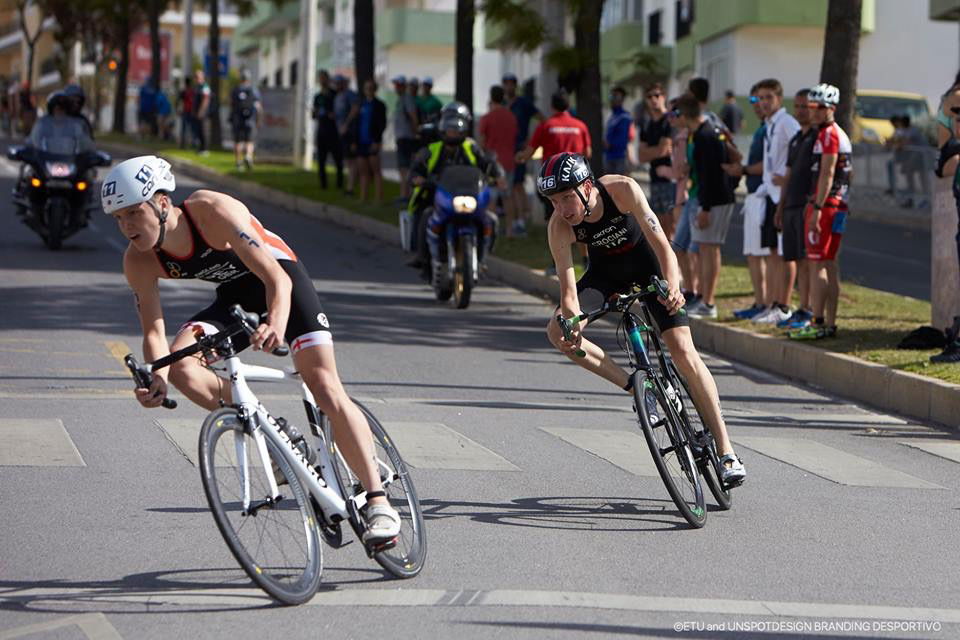 As we were coming into T2 a few athletes crashed right in front of me meaning that I had to go onto the curb in order to get around them. This meant I was slightly behind the leaders coming into transition and had to work hard on the start of the run. I managed to catch the leading group of around 12 which stayed together until just before the halfway mark. Unfortunately, my position in the group was towards the back meaning that I missed the split in the pack. I then ran with a group of 4 before kicking with 600m to go. A French athlete managed to go with me and ended up outsprinting me to the finish meaning that I finished in a solid 8th place. I was happy with the result as this was a very strong field and I even beat the athlete that came 2nd in the World Junior championships last year. This was an encouraging result and has given me confidence for the races to come.
Sunday night the team and coaches went for a meal. My 18th birthday was the next day and it was a pleasant surprise that a cake appeared and everyone sang Happy Birthday to me.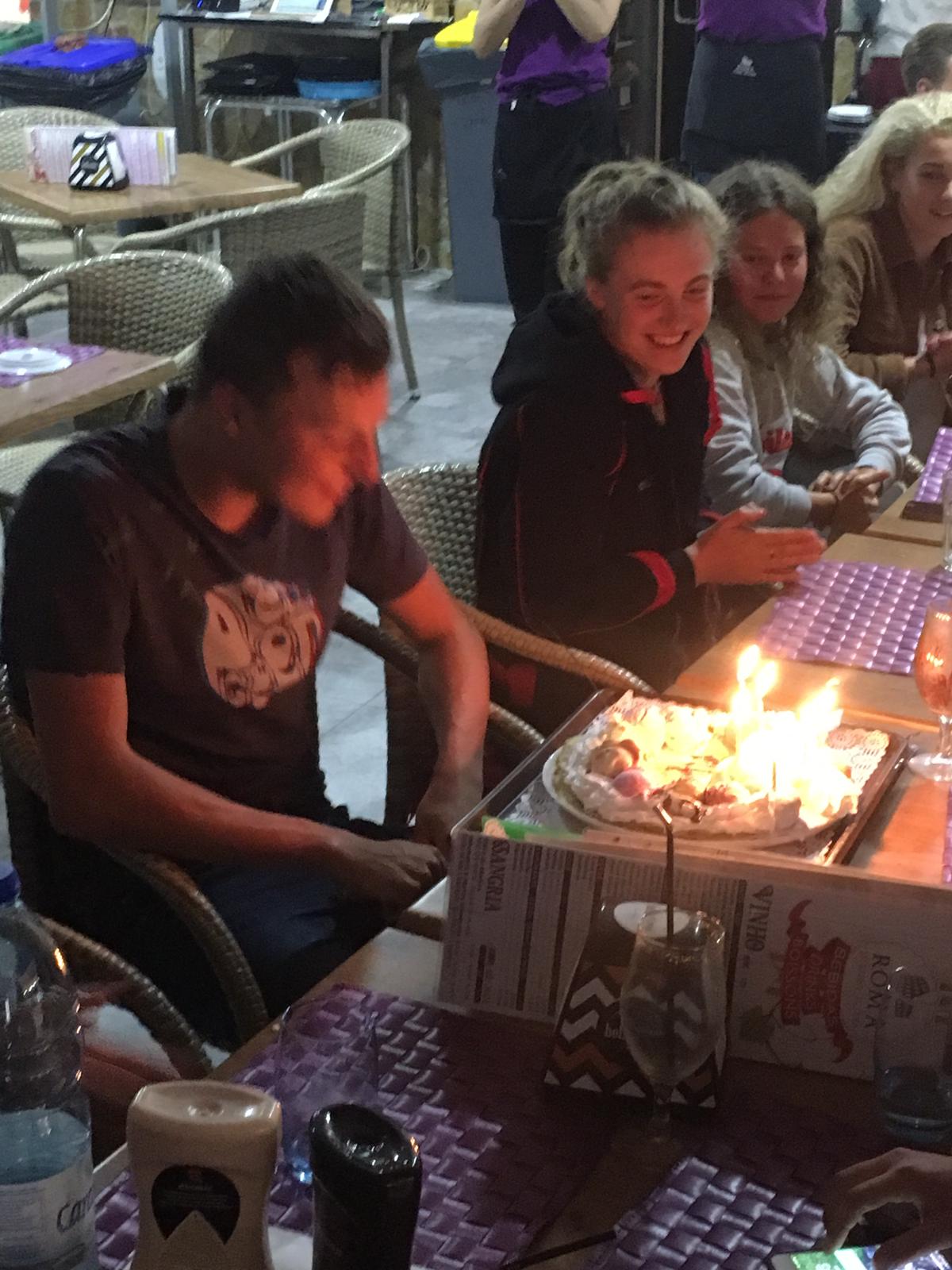 Looking forward to May
Next month will see me race in Llanelli in the European Junior Championship Qualifier. Great Britain has been guaranteed three places so its all up for grabs. If I do make the team the European Championships will be held in Weert, Netherlands in early June. I will also be doing the Manchester 10km which I am looking forward to. I did it last year but pulled up at about 5km with severe cramp and my race was over. Im hoping to make up for last. Text