As we start to come out of lockdown, July was my final month at home. I am delighted to say I have just returned back to Loughborough and moved into a new house for my second year of university.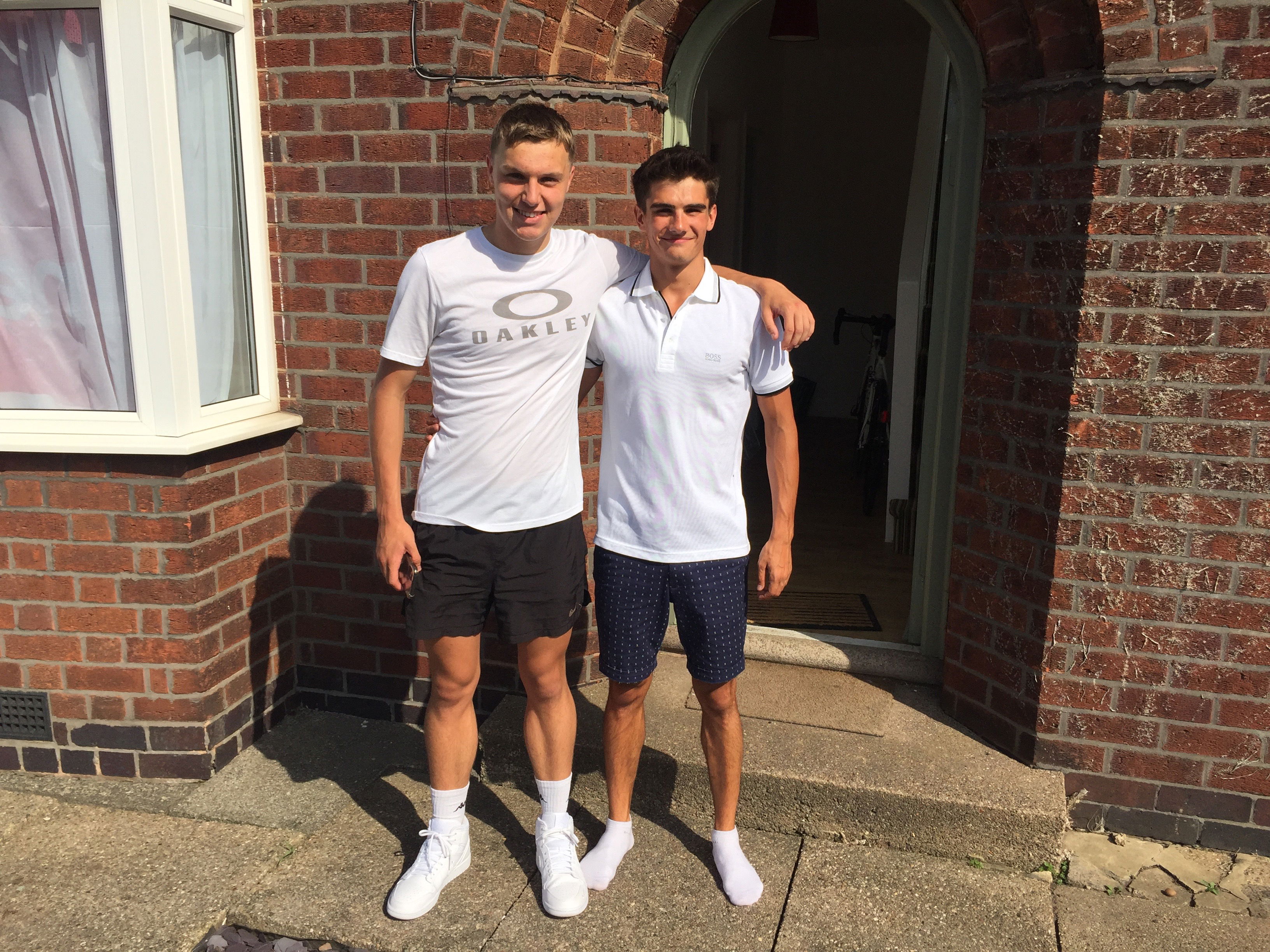 Me and Connor on our moving in day.
I am sharing a house with three other, second year triathletes from the Loughborough Performance Squad. I'm sure that a lot of the readers of this Blog will recognise the names Sam Hart, Connor Bentley and Fynn Batkin. I have known them all for a while and over the years for they have become good friends. We have all been training at Loughborough together during our first year. All have represented Great Britain in Triathlon and I am looking forward to us all sharing a house together. Luckily for me I got the first pick of the rooms and I managed to secure the largest one.
During lockdown I had reduced my mileage in both cycling and running. The volumes I have been doing in recent months were nothing compared to what I was doing prior to the Corona outbreak. However I have steadily been gradually building the volume back up. Now that swimming pools and gyms are now re-opening I am hopeful that it won't be too long before I am back into my full training programme with the squad. During the quarantine period, I had been keeping in contact with my coaches and support staff over zoom calls which I have found to be very useful. However I am looking forward to seeing them and having more frequent and normal communication with them. I returned to Loughborough in July to empty my room and collect my belongings from the universities halls of residence. Driving through Loughborough I didn't realise how much I had been missing the place. I am really looking forward getting back to normality and being able to cycle and run with the Performance Squad. Training on your own does get lonely. On a positive note, returning home had given me the opportunity to reconnect with my old school friends. The lighter training load had given me more time on my hands and had allowed me to explore other sports. I have recently enjoyed playing basketball, as staying at peak fitness hasn't been a priority at the moment.
Amongst other things the past few months of lockdown has allowed me time to rest and get myself ready for my return to Loughborough. I took the opportunity to get both my race bike and training bike serviced. Its surprised me how much wear and tear I had put on my training bike through the winter. I'd like to thank my sponsor, 'Windwave' for helping me out with some of the components. My local bike shop, 'Cycle Addicts' serviced both my bikes ready for my return to Loughborough. Dave and Andy at, 'Cycle Addicts' have always serviced/repaired my bikes. I would highly recommend them to anyone who lives in the Rochdale/Bury area. Both Dave and Andy are very experienced and knowledgable.
Now I am back in Loughborough I have put the 2020 (lack of) season behind me. I now have my sights set on the 2021 season ahead. I am really looking forward to spending another year with the Performance Squad and living with lads down in Loughborough. I am definitely ready for another solid and hopefully consistent winter of training to prepare me for my U23 debut season. I will update you in next months blog as to how my training I going and how I am finding m second year In Loughborough.