This has been a rather challenging month for me. I sprained my ankle during a running session on the 2nd of March. This was a really worrying time for me as I had worked really hard over the winter and I had been pleased with my progress. I didn't want it to go to waste for the National Triathlon Performance Assessments at the end of the month. I was struggling to walk for the next few day but I did everything possible to recover as fast as possible, elevating my foot, resting and using ice packs. I managed to do some swim sessions but pull only. Around a week later, I managed to start cycling again. I was making a fast recovery however I still couldn't run meaning that I had to pull out of the English Schools Cross Country championships in Leeds. This disappointed me as I was running well and wanted to see how I compared against the best in the country.
English Schools Swimming Championships - Crawley
Not all was lost as I had the English Schools Swimming Championships to help give me some motivation back. I performed better than I expected and managed to get a silver medal in the 400 IM in a time not too far off my personal best. I was happy with the performance as I felt good and I swam a good time considering I had travelled 5 hours that day. After a few minutes of jogging around the changing rooms due to a lack of a swim down pool, I then raced the 200m Backstroke, which I had won for the previous two years. I felt terrible and the race felt a lot harder than it should have don. Despite this I still managed to come out on top and take the win, which made it 3 years in a row. The win ensured I would be holding on to my English schools record, at least for another year. It was a good end to my English schools swimming days as I am too old to compete next year. The following day I wasn't supposed to be swimming, however there was a free lane in the 200m Butterfly and I was asked if I wanted to do it. I hadn't swam this event for years so I thought I may as well give it a go as I had nothing to lose. It was just as hard as I remembered it to be and surprised myself by coming in 4th place and in a personal best time.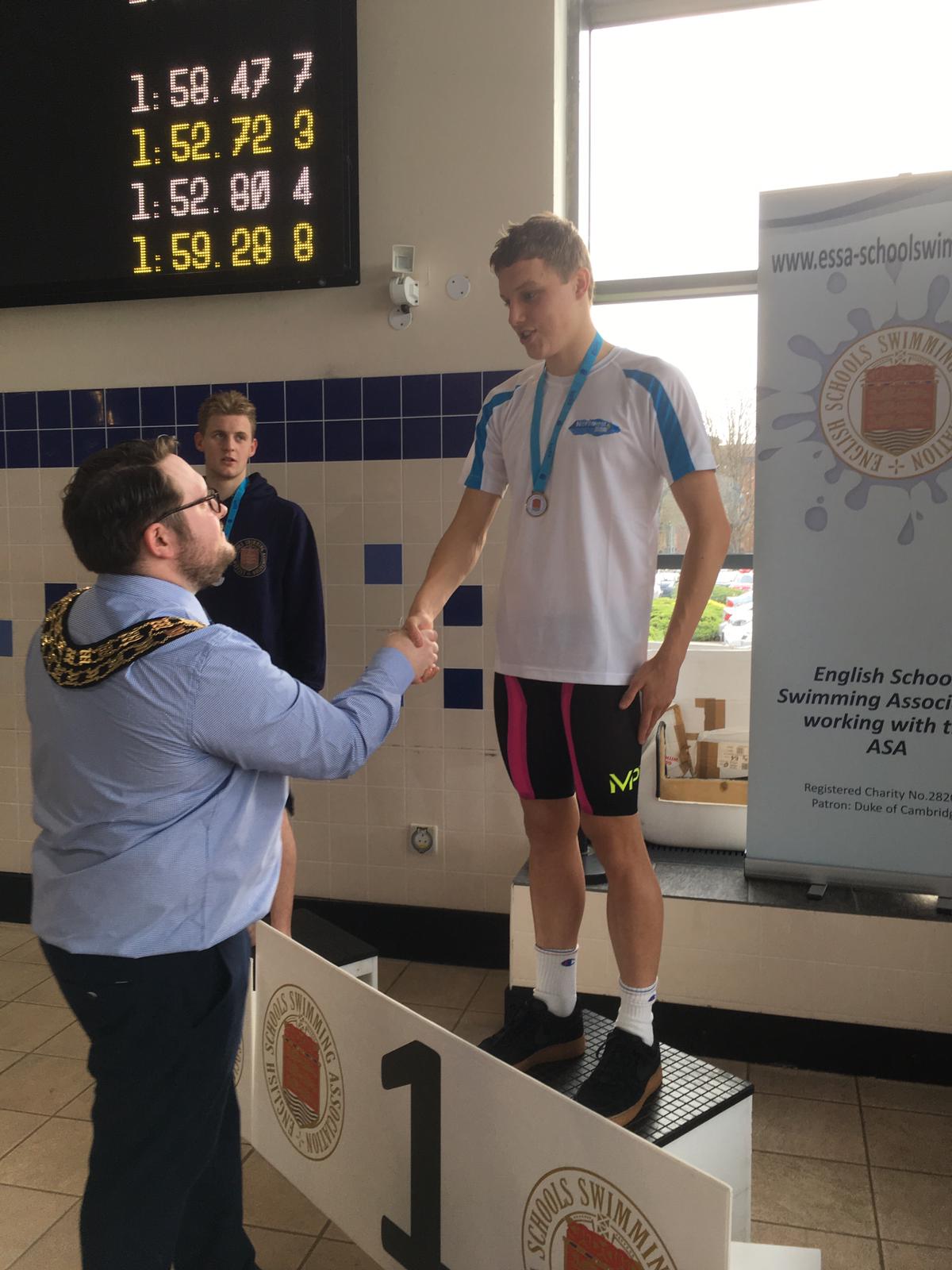 British Triathlon Performance Assessments
On my return from Crawley, training resumed in preparation for the British Triathlon Performance Assessment weekend. I was still struggling with my ankle after a hard weekend of swimming at English Schools. I didn't start running until 9 days before the event. In this period I did everything possible to ensure I could perform the best I could. My Dad and I travelled to Nottingham University on the Saturday. It was good to catch up with the other triathletes.The purpose of the Performance Assessments are to give triathletes hoping to compete in the British Super series a national ranking for and to ensure that the better athletes are guaranteed a start in British Super Series races. On the first day you have an 800m swim and on the second day you have a 20k bike straight into a 5k run.
On the second day you set off in time order based off your swim result. My 800m swim went well and I finished in a time of 8.24, this was 4 seconds faster than last years. This gave me the fastest swim split and provided me with at least a 25 second head start on the closest athlete to me, for the bike/run on day 2. The 25 second gap was fairly pointless, as I wouldn't have anyone to work with on the bike meaning I had to wait for a few others to work with.
Two athletes had got a small lead on the rest of the field and I decided to work with them. The course was very windy which meant it would be a long shot for the three of us to stay away from the main bunch of around 30. I felt strong on the bike and ended up doing a lot of the work on the front in order to maintain our 20-30 thirty second lead over the chasing pack.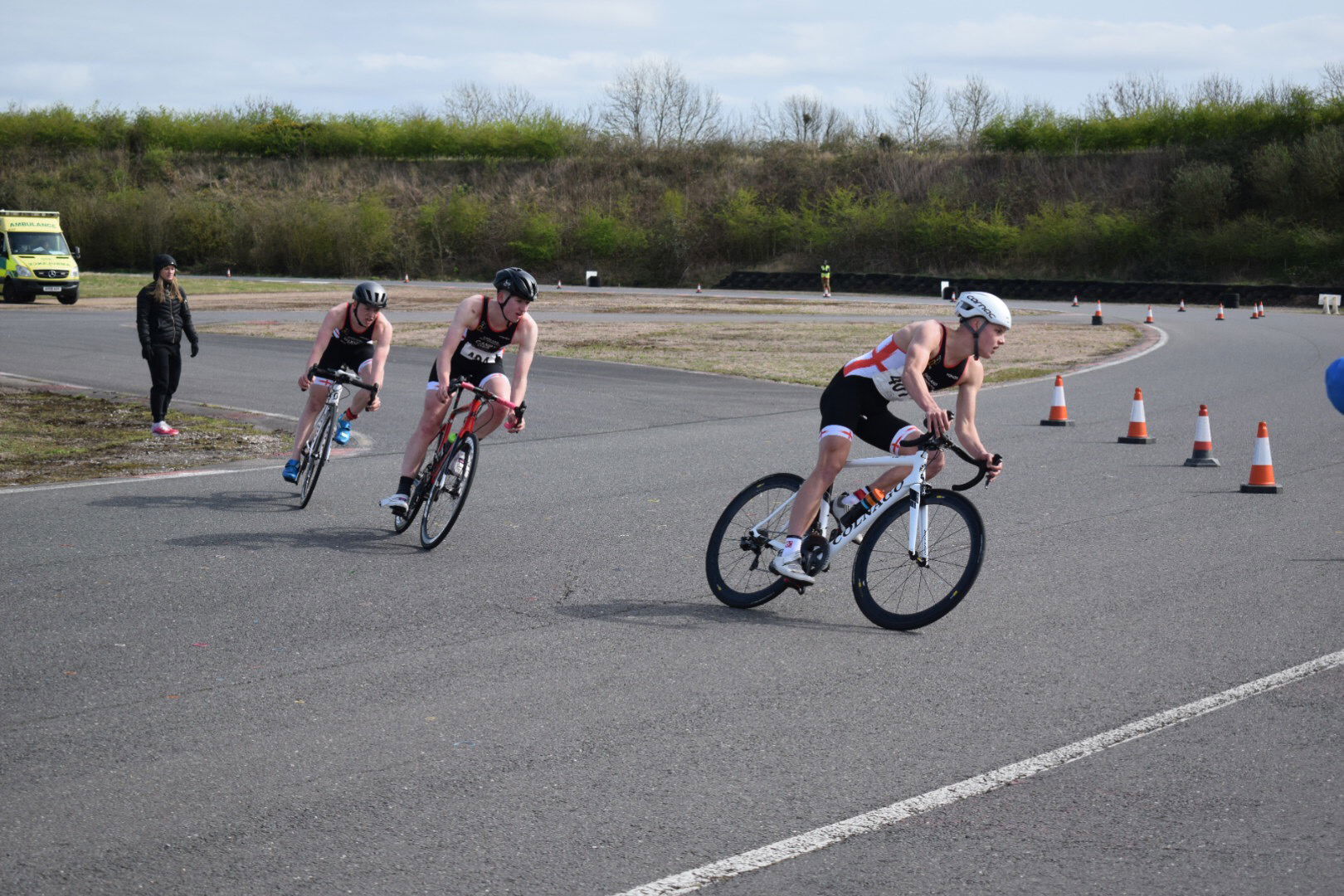 After 4 laps of a windy 5k circuit we came into transition with a 15-20 second lead and had a 5k run separating us from the finish.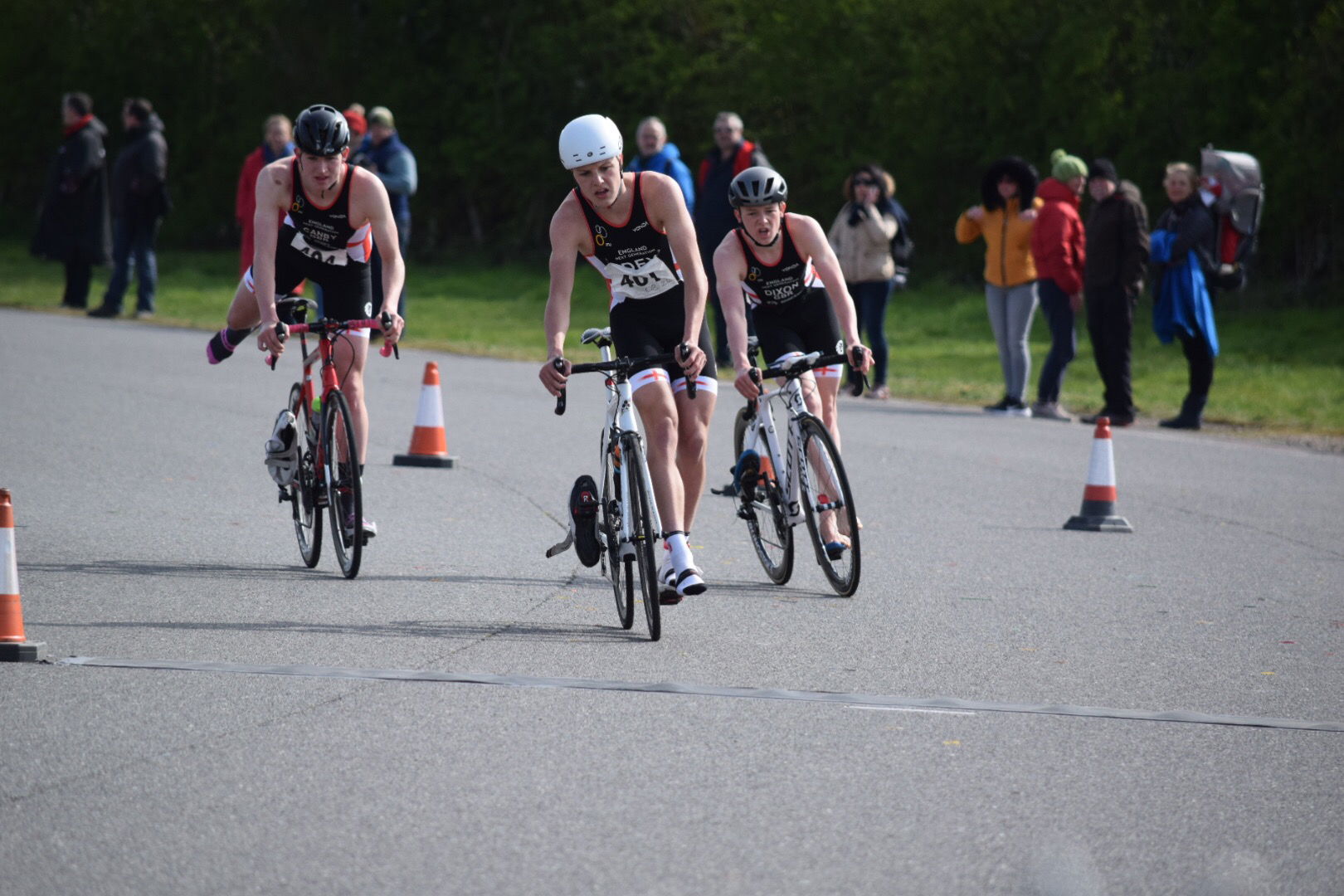 This was split into 4x1.25k laps. The first lap felt awful and us three leaders were beginning to get caught by the faster runners from the chasing pack. We then gradually started ramping the pace up until on of the athletes I was working with on the bike, began to drop off, leaving me and one other athlete to battle it out for 1st. Just before we came onto the second lap, the other athlete kicked and I just didn't have the strength to go with him at the time. He gradually moved to around 10 seconds ahead of me and then held the same distance to the finish.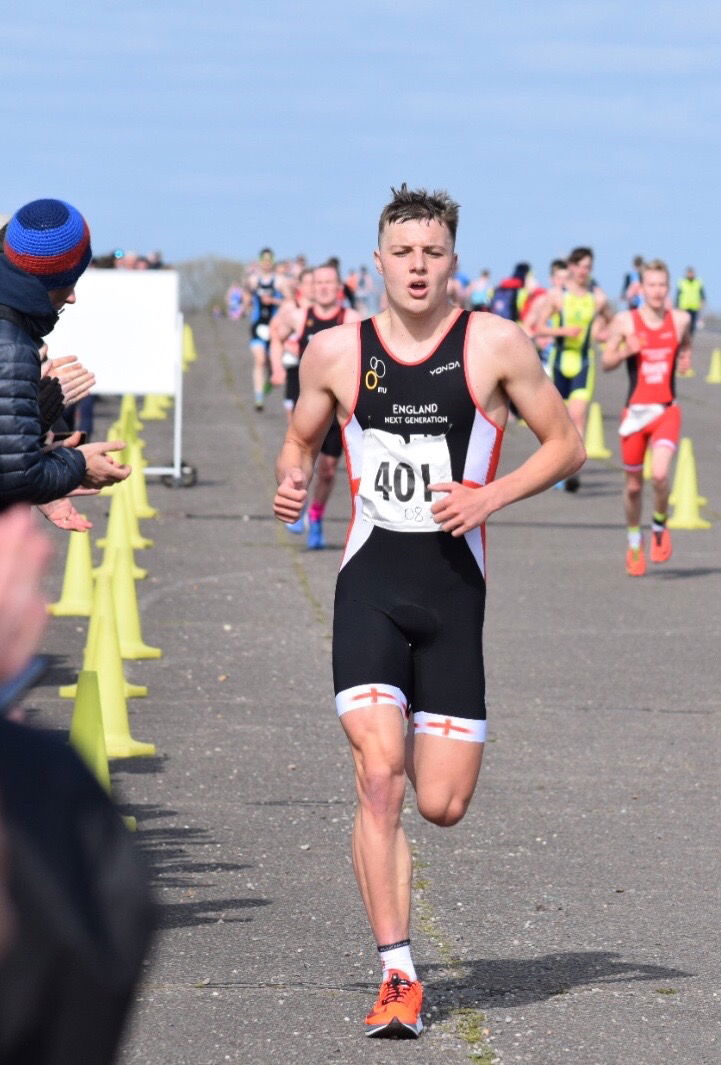 I ended up in second place, which in the circumstances was a good result. My 5k run split was 16.24 off one week of running. This has given me confidence for the rest of the season, as I know I can run much faster than that after a good block of running training.
Looking forward to April
Next month I am looking forward to getting back to full running fitness and competing in the ETU Junior Cup Quartiera race in Portugal where many of the strongest Junior Triathletes in Europe will be racing
I have changed my running training by mixing the paces of my sessions up a lot more; I believe I will be running faster than ever this season.
I hope I can carry on from the success I had in 2018. This season, my main goals are to qualify for the European and World Junior Triathlon Championships. It would also be nice to retain my British Junior Series title. I will also hope to be competing in two Junior European cup races, the first one in Quarteira – Portugal in April and the other in Riga – Latvia in August.
Last season gave me lots of international racing experience and I feel much more prepared for what is to come this season.