This month has been yet another challenging month for myself and many of my fellow triathletes. Motivation isn't at its highest with no races planned in the forceable future. My coach and I have made the decision to go back to the basics and train aerobically without any intense sessions. Ordinarily at this time of the year I would be doing a lot of speed work within all three disciplines, however due to the uncertainty of how the season is going to proceed with all my races being postponed/cancelled there is no point at this moment in doing the speed work. Instead I have been getting lots of steady state training in.
It has come as some relief this past month to see the lockdown rules being slightly relaxed. This has allowed me to join some of my friends for long runs and I have even done some open water swimming sessions due to the nice weather we have recently enjoyed. It has been over 2 months since I had my last swim session. My first session back in the water felt very unnatural. I started by doing only 1km in my first session and over a few more sessions I have built up to 3km in a single swim. I haven't necessarily done these sessions for the fitness benefits but more to maintain my stroke technique and my catch for the water. Before I started doing some open water swims, I had been doing stretch cord work to help maintain strength in my swim specific muscles.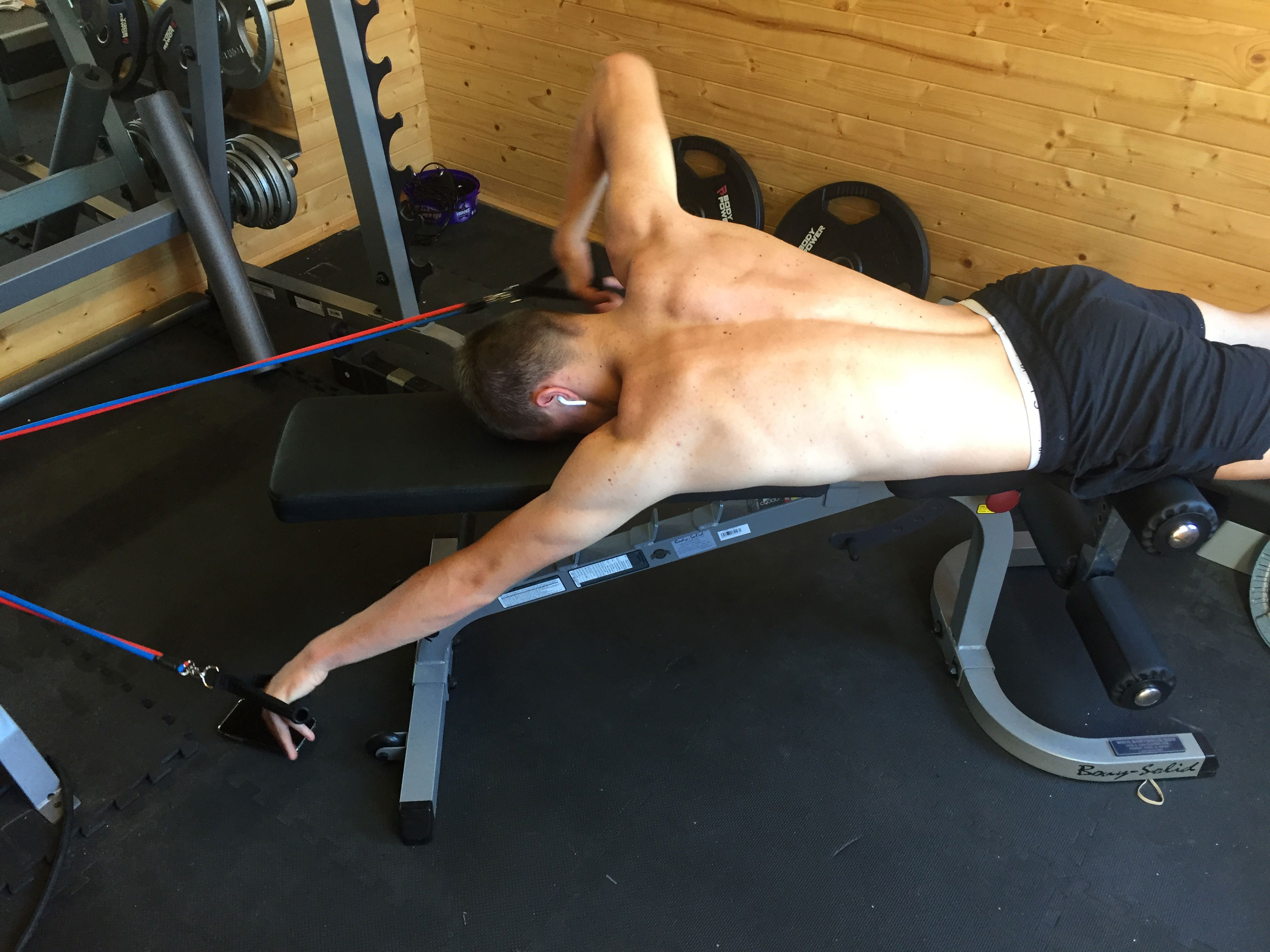 Swim Training
I mentioned in my last Blog I would talk about what my swim programme entails this month, and what it would look like in a normal week of training back at Loughborough. The pool facilities at Loughborough are fantastic and we train in the 50m pool.A typical weeks training looks something like this.
We will generally cover between 20-25,000m in a week.
Tuesday Am – 90 mins working on swim speed.
This will help me to get off to a good start and to the front of the race avoiding the carnage of the middle of the swim pack. During this session we will do lots of 25m repeats and include hand paddles and sponges for strength.
Wednesday Am – 90 mins.
This session will be a relatively long aerobic set (normally 6k total) to help improve endurance and improve efficiency so that you feel fresher coming out of the swim.
Thursday AM – 90 mins
This session is based around improving your race swim speed. It will include 50m, 100m or 200m repetitions above race pace with a good amount of rest in-between reps. We will normally do around 1500m of these types of efforts. To give you an idea of my timings if they were 100s, we will do them on about 2 mins and I will be repping 60-61sec throughout.
Friday PM – 60mins
This is an easy swim where we work on technique and open water specific skills.
Sunday PM – 90mins
Threshold session, this is where we will do around 2-3k of work at 1500m race pace. These repetitions can vary from 100m-500m. We will do these with short rest in between, this is normally the hardest session of the week. To give you an idea if they were 15 x 100m I would turn around on 1:25min and be repping 1:07min.
We are still in uncertain times and I am still not sure on whether I will be racing at all this year and when I can return back to Loughborough to resume training. Despite this I am still in constant communication with my coach and support staff on a regular basis.
Looking forward to June.
Next month I hope to get in some more open water training and maintain my fitness ready for when the lockdown is fully lifted. Hopefully we have now come through the worst of this crisis and there is now light at the end of the tunnel.
Thanks for reading, until next month stay safe