This month has been pretty frustrating for me. I have just had one race this month which was the U23 European Championship qualifying race.The race was held at Llanelli, South Wales, a race I had previously won in 2019. Due to the Covid restrictions of the race, there were supposed to be no spectators which meant I had to drive myself down to the race venue myself. It's a three and a half-hour journey from Loughborough and my Race was at 9 AM so I decided to stay overnight before the race.
On the morning of the race, it was a slightly different protocol than usual due to the Covid restrictions and we had to have a lateral flow test, before then being penned in to a small section which we could not leave. This restricted how we could warm up for our race. This led to people jogging round in small 50m circles which was the first and hopefully last time that will happen.The starting method was a beach start where you line up behind a start line on land (like in a cross-country race), then run into the water to begin the swim. I started on the very far right-hand side which I only discovered after the race was the furthest line to the first buoy (despite being told it was the same regardless of starting position). After being slightly behind the leaders at the first buoy, I ended up coming out of the water with an 8 second lead on the second athlete out of the water. The weather had been awful all morning which meant that the transition area (which was on grass) was slippery which meant I ended up stacking it in the middle of transition. Other than falling, my transition went well and I got onto the bike leg in the lead.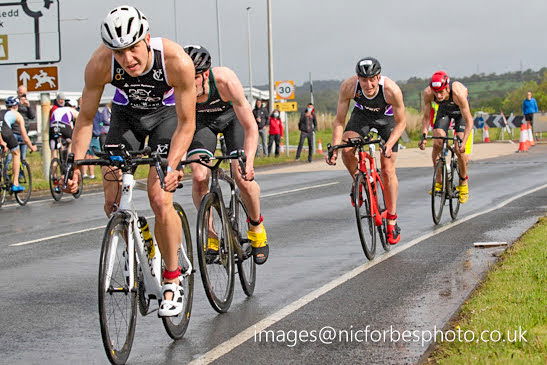 After a minute a so, a small group of 4 athletes including myself had a small lead on the chasing pack of around 12 athletes. I was taking large turns on the front for the first 4 laps of the 5 lap bike course, but we were never pulling away from the chasing pack due to the other athletes pulling weak turns or not pulling turns at all. At the start of the 5th lap, the chasing group caught onto us which meant it would be a run race to decide the finishing order. This was really annoying for me as I was coming into transition with people who had swam over 30s slower than me and averaged over 30 watts less than me on the bike as people were just sitting in the wheels of the chase pack.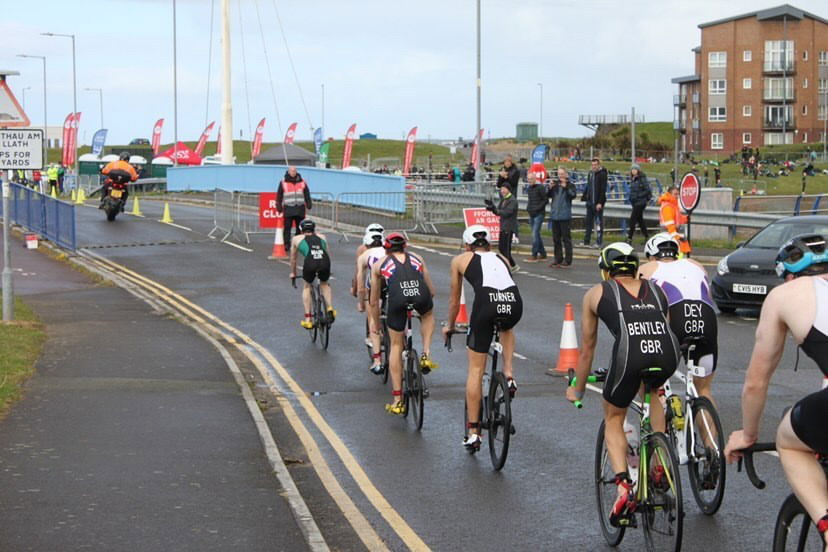 Coming into T2 I was towards the front of the group in order to stay out of trouble however an athlete fell over in front of me just before I was about to put my bike away, once I had put my shoes on, another athlete fell over Infront of me which left me around 5 seconds behind the leaders. After setting off at what felt like a controlled pace, I realised I was catching the race leaders and I eventually caught on to them after around 750m.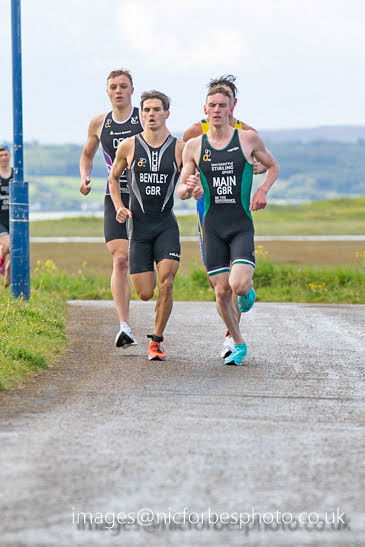 The pace started to pick up so I just stuck with the leaders as there were a few U23's with low 14/ sub 14-minute 5km Pb's in the group still. Gradually people started dropping off the back of the group until 2.5km where there was a group of 4 leaders including myself.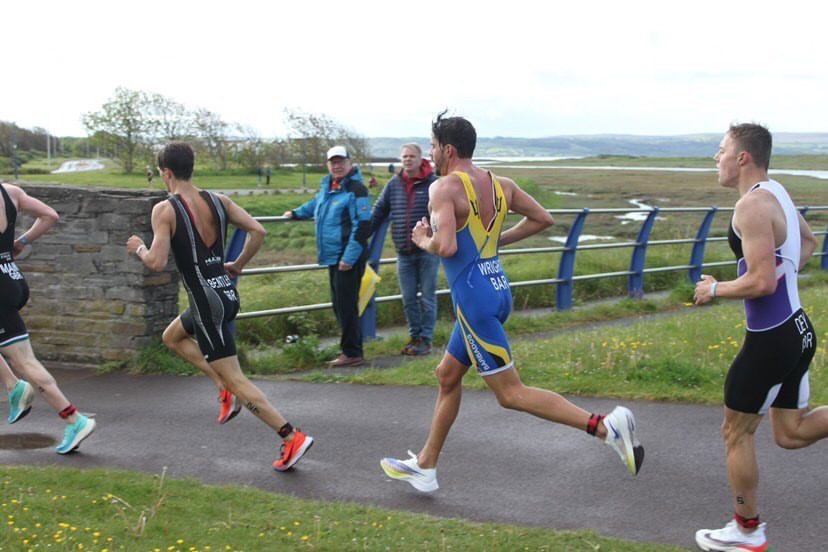 At around 3-3.5km into the run the pace picked up again and I couldn't go with the pace as I had used most of my energy on the swim and bike. Someone who was slightly behind the lead group also ran past me leaving me in 5th place overall and 4th U23 at the finish line.
Due to Covid, GB have been limited with places for the European Championships this year, and have been given to 2 places (we would have normally had 4 places). So I have narrowly missed out.
It felt like pretty much everything was against me in this race but on reflection that is sport. Other athletes raced it to their strengths and did what they needed to. I was really proud of my individual performance as I did everything I could have done to win the race. I executed my race plan perfectly and committed to the break away on the bike, it just wasn't in my favour which means sadly I didn't qualify for the U23 European championships.
I think I am a lot stronger athlete since I last properly raced in 2019. I ran 15.42 for 5km after swimming 8.12 for 750m (open water) and cycling at 330w (normalised power for 30 minutes).
Despite the disappointment I'm more motivated than I ever have been and I am ready to get the results I deserve later on in the season.
Covid dependant I will be racing some French Grand Prix races later in the season and in Tiszaujvaros European cup (Hungary).
As always I will update you next month with how things are going. Thanks for reading.